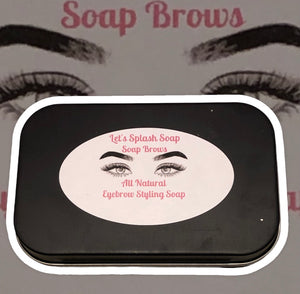 All Natural Eyebrow Styling Soap. The latest girly craze. Comes with a Spoolie brush. This handcrafted Olive Oil Soap is made from scratch and made from good wholesome ingredients geared to gently yet firmly sculpt and style those  Eyebrows. Olive Oil Soap Base is a vegan soap, gentle on your skin.
To Use:  Get the enclosed Spoolie Brush damp. Scrape the Spoolie brush thru the soap chamber. Apply to your eyebrows sculpt and style as you like.  
Olive Oil Soap Ingredients: Olive, Castor n Avacado Oils. Purified Water, Sodium Hydroxide, Sorbitol, Vitamin E, Essential Oils.
Love your Eyebrows! Thank you for visitng us here at Let's Splash Soap.  We have a bar for every body.    Product of Heavenly Ridge Farm, Placerville, California 
Recipe Contains:
Organic Materials
Plant Based Ingredients
Paraben Free
Alcohol Free
Gentle on your skin
Eco Friendly
Zero Waste
No Animal Testing
Small Batch Recipe